What does "being punctual" mean where you live?
There are varying cultural norms on punctuality across the globe, according to Erin Meyer, a professor at Insead business school and author of The Culture Map book.
When placed on a spectrum between "linear time", i.e. scheduling with focus on the deadline and no interruptions, and "flexible time", i.e. changing tasks as opportunities arise, Japan, Germany and the US are found to adhere to linear scheduling, Brazil, China and Russia prefer flexible approach, Poland and France are in the middle of the spectrum.
When it comes to public transportation, Japan's high-speed bullet train Shinkansen is known for remarkable punctuality as its average delay per trip is just 24 seconds including weather-related delays.
While Japanese passengers are issued a "delay certificate" if a train is late for five minutes, in Great Britain and the US, a ten-minute leeway is allowed to be "on time".
As for air travel, Japanese airline All Nippon Airways (ANA) placed in the top five in the On-Time Performance Service (OPS) Awards 2018 ranking. In the meantime, Japan Airlines (JAL) placed first in Asia-Pacific region achieving a mainline performance of 84.73 percent, ANA placing first for its network operations.
Airport gridlock amid rise in air travel
As the number of air travelers is expected to grow at a 3.5 percent annual compound rate, thereby doubling to 8.2 billion by 2037 according to the International Air Transport Association (IATA), airports need to address the issue of congestion resulting in poor on-time performance (OTP).
According to McKinsey, airport congestion also implies a rise in ticket prices as demand outstrips supply, decreased network connectivity as airlines drop connection-heavy routes in favor of more profitable ones, and flatter passenger growth.
In December 2018, congestion at Frankfurt airport made headlines as about 3,000 passengers missed Christmas flights after waiting up to one and half hours at security checkpoints. In response, Frankfurt airport has opened seven new security control lanes built within six months following the incident.
'NEC the WISE' uses artificial intelligence to predict waiting time
In the face of rising demand for air travel, NEC Corporation has announced the use of passenger waiting time prediction technology "NEC the WISE" at security checkpoints of Haneda International Airport in Tokyo starting from October 2019.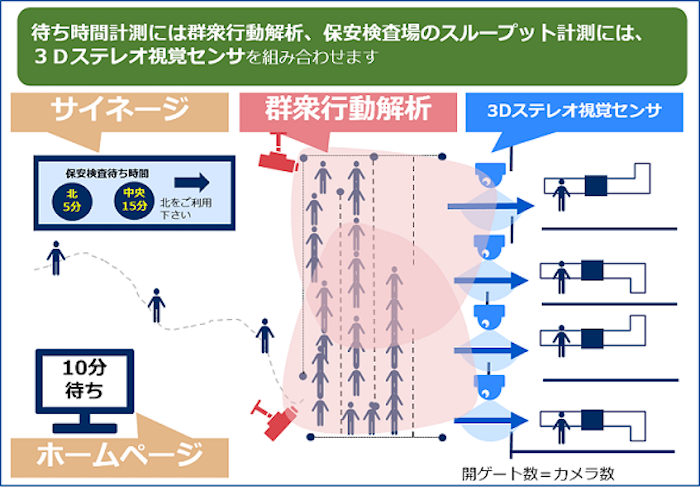 How waiting time prediction system works
AI-powered "NEC the WISE" system uses real-time crowd behavior analysis and 3D stereo vision sensors to determine waiting time at security gates.
By ensuring all security gates available at Haneda airport are used efficiently, the new system aims to improve airline on-time performance (OTP) and provide convenient air travel for passengers.