Today, we enjoy a wide variety of web services and content for free such as videos, music and software. Behind the scenes of them, there are new types of value generated by creators. Most of them raise funds through ad revenue, donation, crowdfunding or social tipping.
Unfortunately, such revenue sources that heavily depend on payers' goodwill cannot be a long-term way for monetizing. This issue has an influence on creators' activities themselves and eventually becomes a major barrier for worldwide innovation.
In order to improve the situation, FRAME00, which developed made-in-Japan protocol of "Dev Protocol", has enabled creators to sustainably monetize by using blockchain with an innovative community. I had an interview with aggre, CTO, and Kawakami, Developer Relations, from FRAME00 inc, to talk about their realization of unprecedented ecosystem as well as the synergy generated by the joining of "Microsoft for Startups".
Environment with less innovation for creators
— Could you describe "creators" that FRAME00 defines?
aggre
In our view, all the people who "create something by themselves" are creators. Creators are those who contribute to the society by creating their works as open source, for example, Open Source Software (OSS) developers, composers of music or movies, and authors of research paper. FRAME00 aims for a wide range of backup for creators. Currently, our target is OSS developers to expand our business.
— What sort of challenges did creators have for their activities?
Kawakami
This is not something limited to creators, but monetizing through website in general has been completed in a closed space where users pay for products when they use them. This method is not compatible with open assets such as OSS. Since developers have a basic stance in which they don't set up a limitation on the use of OSS, it seems difficult for them to profit. As a result, they sometimes find it hard to maintain motivation to continue their creative activities for a long time. Although there has been a lot of discussions on the way to monetize, people didn't come up with any decisive means.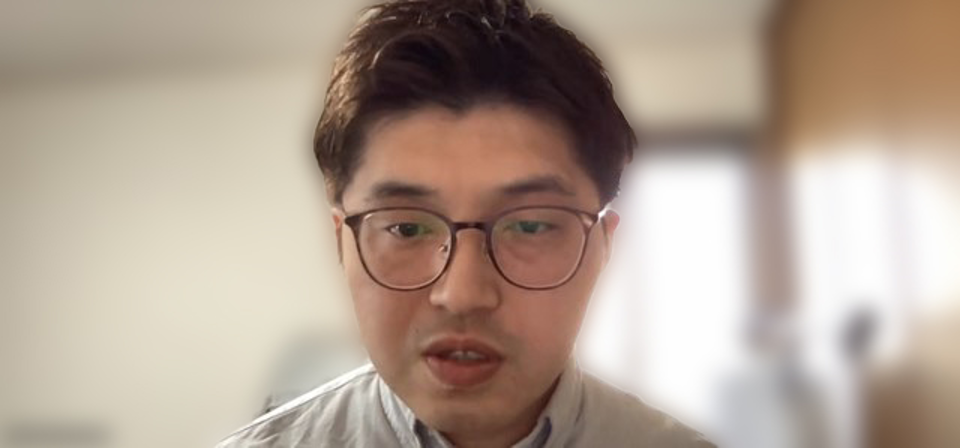 The reason creators keep their assets open is that users from all over the world utilize them thanks to their openness, and it results in new innovation. Ironically, because their assets can be used by anybody for free, developers face more difficulty in monetizing them compared with having a closed service.
Today there are many types of methods for monetizing open source like donation services, crowdfunding and ad revenue. However, they aren't a continuous monetizing method but a temporal one. Although there is actually a subscription service, those who want to donate might stop their support because of its monthly payment. We were aware of this issue due to the fact that such ways of monetizing cannot be continuous.
— Could you tell us more about potential obstacles as a failure of continuous monetizing?
aggre
I think creators should focus on their highly creative work, but if they have no choice but to spend too much time on financing, they can't perform for innovation.
If creators can produce excellent assets and turn them into a significant project, they can raise funds from firms and investors. However, if they cannot clearly explain their source of revenue at a certain stage in their project, no money can be paid for them. Therefore, such creators have to depend on small lot funds at their initial stage of development, which would end up in the suspension of their activities.
You might hear the same story from musicians and artists in our real world, not just from developers on the web. There is a gap between creators' technological value and their economic value. A similar phenomenon occurs in the world. It is said that over 83% of projects including OSS, which is open and free on the internet, stagnates within a year.
Reward for both creators and supporters. A new value using staking.
— Could you tell us a brief background of releasing "Dev Protocol", which enables a new type of support for creators?
aggre
FRAME00 was established in 2015. Around that time, our CEO had a chance to work with artisans and artists. Then she felt the imbalance between the value of their work and their profit. In order to solve the issue that valuable things aren't economically evaluated, we've done various business and learned by trial and error.
After we finished interviews with different users such as artisans, artists and developers of software, we could clearly see a challenge that OSS developers hold. Consequently, we released a prototype of "Dev Protocol" in 2018 to focus on and tackle their challenge.
— Please let us know the framework of Dev Protocol.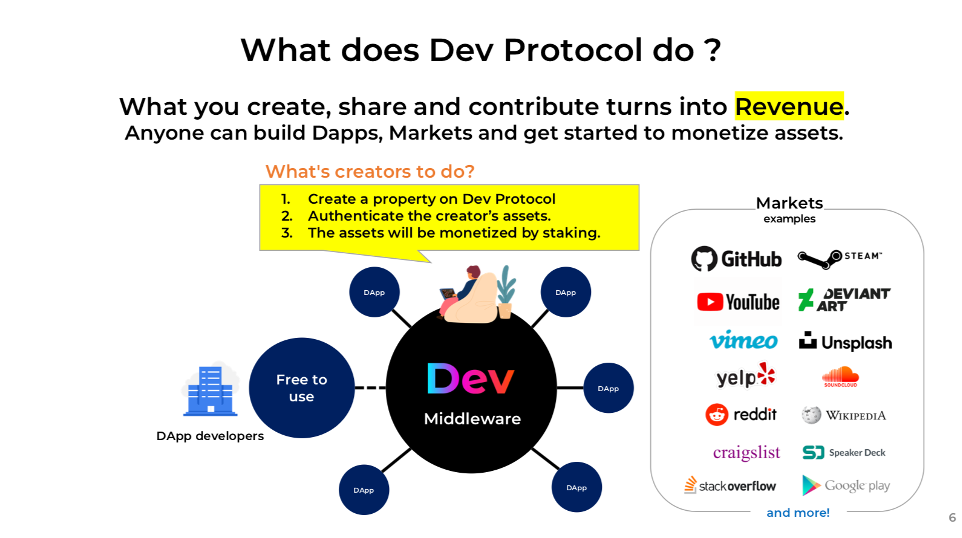 aggre
Dev Protocol is a "decentralized protocol" that enables both creators and supporters to get reward through staking(*). Through the tokenization of open assets, revenue is distributed thanks to one of the advantages of blockchain. Anyone can participate in the community after they've developed an app. So far we've had approximately 1,600 registered OSS projects and the total amount of staking exceeds three hundred million yen.
*Staking
A framework where you can get reward by joining a blockchain network with your crypto currency that is subject to the network.
The frame feature of decentralized protocol is that community doesn't depend on us. FRAME00 is not a so-called "manager". Therefore, there is no commission fee, and even if we are gone, Dev Protocol continues to operate. Since we've just released it, we are actually maintaining Dev Protocol. However, we're considering staying away from its maintenance within a year or two. After that Dev Protocol becomes a commodity that can be used by anyone, and we want to contribute to the community as casual members of it .
"Staking", which is a part of system of blockchain, is applied to OSS. We have a unique token called "DEV", and this crypto asset plays an important role as reward. Once DEV is deposited at creators' assets, people can join staking.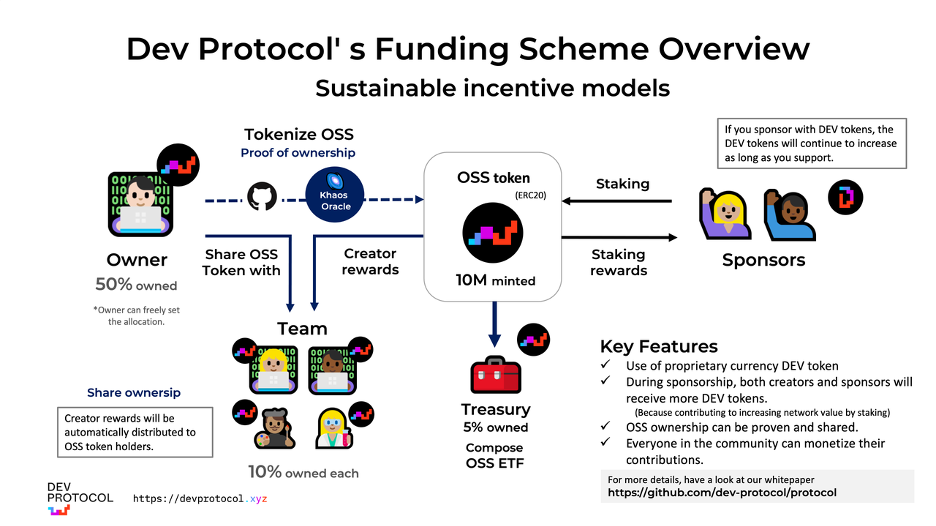 — How is the revenue source generated?
Kawakami
First, when sponsors deposit DEV token for a certain period, it is separated from the circulating market. Then the circulating amount of DEV decreases, as it temporarily disappears from the market. During this time, a small amount of newly issued DEV is allocated to sponsors. From the point of view of them, DEV increases by just depositing. It is similar to the system of fixed deposit in banks.
Creators also have a right to receive newly issued DEV in accordance with the number of staking they got. They can use DEV on their own account, so they can trade it at the market or can use it for staking others.
Thanks to the structure where sponsors can also profit, they can continue their support. As for sponsors' motivation to support creators, they often say like: "I want projects to be more vibrant", "I wish their works to be highly efficient", or "I want their projects to be more sustainable".
— It's surely a revolutionary system. Did this idea originate from FRAM00?
aggre
Yes, it did. I think there hasn't been any other models that have a system like this in the world at the moment. The model of our idea is based on the insights gained from numerous user interviews. At the process of searching for creators' way for monetizing, we developed a messenger that realizes settlement function to receive questions for a fee. However, few creators utilize it as a main means for monetizing. Then we had more interviews with OSS developers as well as users, and had an opportunity to see a blockchain developer, which was a starting point for our current idea.
— How does FRAME00 monetize?
aggre
In fact, we don't have any clear way to monetize. For the meantime, we raise funds by "token sale", which is a financing method where we sell our currently holding DEV token to investors.
In the future, managing body will be transferred from us to the community, so we think it necessary to receive incentives from the community as maintaining members of it.
— What do you think of overseas expansion and user increase?
aggre
We set up our basis of blockchain as Ethereum that is highly public and decentralized to make Dev Protocol more applicable to creators of all kinds as well as OSS.
In terms of our overseas expansion, our messages on the website are all in English and the content of them tends to be universal. In addition, the reason we adopted crypto currency instead of cash is to support technical experts in the world who collaborate with each other regardless of boarders. Supporting them with a legal tender means that OSS, which is basically borderless, might be evaluated by one single country's currency. This deviates from our concept.
Collaboration is from sharing the same vision of technical phase
— What made you decide to join "Microsoft for Startups"?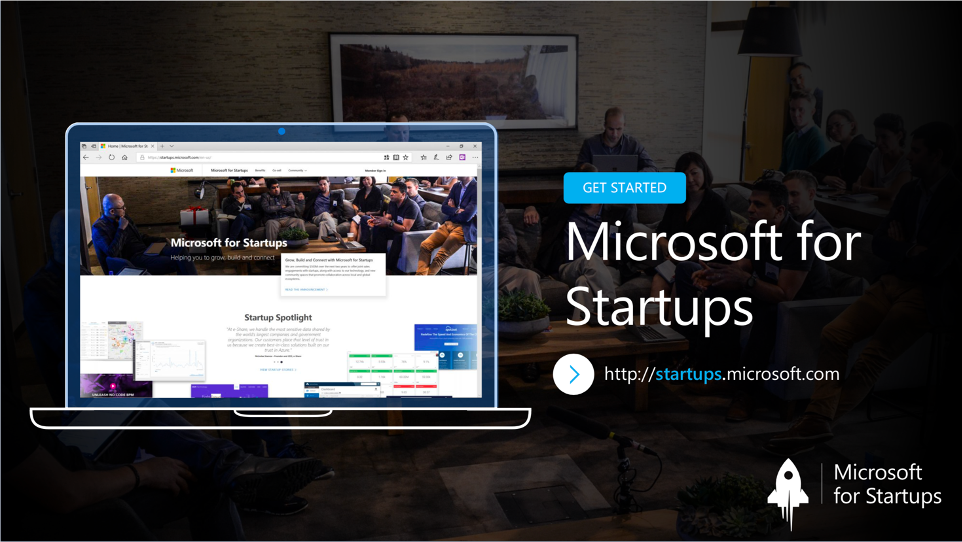 aggre
When FRAME00 got a vague idea on its future direction in blockchain, I often attended some workshops. I met a Microsoft staff there, and talked to him on our business and introduced our products. Then he suggested "Microsoft for Startups" to me. We decided to join it because the social significance of our product was highly evaluated.
— What kind of supports provided by "Microsoft for Startups" were helpful for you?
aggre
We have a small group of 4 staff in our developing team, and don't have an architect of infrastructure. One of the biggest advantages of "Microsoft for Startups" is complementing that position. I was not originally an infrastructure engineer, so I asked them vague questions like "I don't know how to do it" or "There might be better way for it". Fortunately, staff from "Microsoft for Startups" gave me concrete answers for such queries, and at one time they kindly sent us a structure chart. They always support us together with our needs. In terms of technology, "Khaos", which is a side project of "Dev Protocol", is operated on Azure infrastructure. We used the support of OfficeSuite as well.
Also, as one of their supports for our expansion of business, they were kind enough to listen to our concerns, introduce other startups by using connections of Microsoft, and help us with media exposure. I thought joining the network of Microsoft at the stage of startup was very advantageous.
— Please tell us the synergy created by the collaboration with Microsoft.
aggre
The area of "Dev Protocol" matches that of Microsoft, because both of them create open source and deal with the invigoration of community globally. Since we both see the same direction, we can discuss present or future issues as partners, and produce new ideas. FRAME00's business is not for enterprises, so I think business synergy is not so strong for Microsoft. However, the time when our vision becomes real is also the time when Microsoft's perspective of the world goes forward to the realization. I think this kind of relationship will lead to a better collaboration.
For the society where all creators can challenge innovation
— Now, could you tell us again FRAME00's vision and social challenges that would be solved after it is realized?
aggre
Our vision is "to create the society where all innovators are fairly evaluated and can sustainably challenge". Our current target is monetizing business for OSS developers, but our future goal is to increase the absolute number of people who create innovations. We aim for the world where creativity is maximized from academic to artistic works.
For the first step of the roadmap of "Dev Protocol", we want to turn it into an infrastructure for creators just like the internet. When someone decides to create something, or when his/her development is about to stagnate, we want them to come up with "Dev Protocol" for their first choice.
We haven't had any concrete ideas after that, or don't have strong preferences in blockchain, but as a matter of necessity, we'll choose blockchain. We don't wish innovators to depend on us, as we put emphasis on decentralization. FRAME00 should be like the air. This way of thinking is the same as the fundamental ideas of blockchain.
I think we can solve the social issue of lack of innovators. People didn't receive fair economic evaluation with the traditional system of assets in the past. In other words, it was based on somebody's sacrifice. If this structure can be dissolved, innovation in the world would be accelerated.