A new support service HafH, offering flexible space on a subscription basis, started in Japan in 2019.
Its launch was announced in January this year by Kabuk Style Inc, a founder of the project which raised around 10 million yen ($90,000) on crowdfunding platform Makuake as of January 8.
As we received great feedback from our readers when we reported on HafH service back in November last year, here we meet Ryo Osera, a co-head of Kabuk Style Inc., to ask what motivated him to launch a service seemingly unrelated to his career in the advertising agency where he was involved in marketing projects, and notably organized public relations for Japan's central government.
Ryo Osera

Co-CEO/Producer at Kabuk Style Inc.
Born in Nagasaki in 1983. In 2007 joins advertising agency Dentsu upon graduation from University of Tsukuba. Serves as head of community of Nagasaki-born Tokyoites "Shinkame"; exhibits "Nagasaki Archive" on realities of atomic weapons at Japan Media Arts Festival, etc. In 2015 joins social media team at the prime minister's office. In April 2018 steps into a role of town planning adviser to the city of Tsukuba. In November 2018 issues a press release "HafH: live and work around the globe".
Feel at home away from home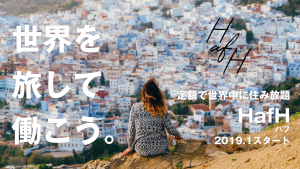 The HafH Network: launches in January 2019.
Live and work around the globe at a flat subscription fee.

HafH is a new service which offers its subscribers a flexible space to use around the world for living or work. By paying a fixed monthly fee, a user can stay in any of the facilities available in Japan or other countries with no additional charges.
The HafH service exempts its subscribers from utility fees, an internet connection fee, a tenant's security deposits and a gift payment to a landlord, a two-year lease period and a renewal fee often mandated by realtors.
The name of the service HafH (pronounced "Hafu" in Japanese) takes the first letters of "Home away from Home" concept, intending to create an atmosphere and convenience of stay as if travelers never left their homes.
Today, an increasing number of Japanese people travel abroad, and also people from around the world visit Japan. HafH aims to support people during their journey thereby contributing to local economies as well.
Various service plans to live and work around the world
On January 8 this year, HafH opened its first facility "Nagasaki-SAI" in the southern city of Nagasaki, historically known as Japan's "window to the world". It intends to further expand its service around the world.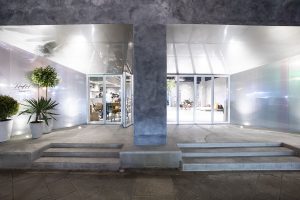 A new HafH facility Nagasaki-SAI opened on 8 January 2019.
Users can choose from three available service plans (prices including tax as of January 1, 2019):
Service plan "always at HafH"
At 82,000-yen ($750) monthly fee, a subscriber gets access to fixed space with bed, and also can apply for a residence card at local municipality.
Service plan "sometimes at HafH"
At 32,000-yen ($290) monthly fee, a subscriber gets access to flexible space as non-permanent resident.
Service plan "workspace at HafH"
At 12,000-yen ($110) monthly fee, a subscriber gets access to workspace only, i.e. access to bed is not included in this plan.
Service plan "experience HafH" offers space from one-hour to several days which can be used as a guesthouse or co-working space.
Kabuk Style Inc. announced its forthcoming collaboration with TRASTA Inc on January 8 this year. There is an agreement to use TRASTA Inc's 18 facilities, including the ones about to open, as part of the HafH Network. This spring, HafH opened new facilities in Japan's second-largest city of Osaka in the Kansai region and in Fukuoka, the biggest city on the southern island of Kyushu.
Expanding its services across four continents of Asia, Europe, North America and Africa, HafH has already opened facilities in Vietnam's second-largest city of Hanoi, Malaysia's economic hub of Kuala Lumpur, in Kostos on the Greek island of Paros and the Kenyan capital of Nairobi, among others.
HafH is currently working with TRASTA Inc on developing a system to enhance the ease of use for service subscribers.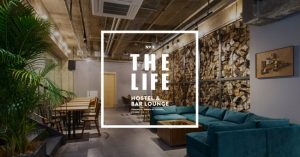 "The Life Hostel & Bar Lounge" located in central area of Fukuoka city, at walking distance from Canal City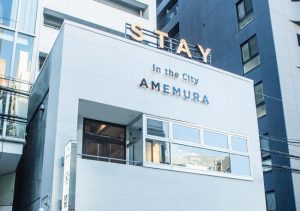 "Stay in the City AMEMURA" located near the main shopping district of Osaka city.
A business model shaped by real-life experience
We wonder how Mr Osera came up with the idea for flexible space service: it turns out the HafH business model took shape from his life experiences.
Osera has known co-founder Kenji Sunada long before they started the enterprise together. About ten years ago in Nagasaki the two pals proposed to local municipality to transform vacant houses into artists' residences and shared houses. It can be said that was the starting point for HafH endeavor.
Ryo Osera: I grew up in Dejima district of Nagasaki city which is historically known as a place of interaction between local people and newcomers. Considering the town's vitality in the old days, one would expect it to be a popular destination for visitors. As the real situation was different, I suggested that modern Dejima could be revived in a new way.
Although his hopes did not reach fruition at the time, Osera continued support for his hometown as head of the community of Nagasaki-born Tokyoites. During three-year stint in the public relations team of the prime minister's office, he travelled to about 40 countries, circling the globe 15 times. Such experience played an important role in building the concept of "HafH: live and work around the globe".
Ryo Osera: On my usual day I would wake up and grab my computer, phone and WiFi before going out to work, only realizing that I am overseas upon hearing voices in a foreign language. Sometimes I would travel overseas on a weekend, open my computer, amazed that I can stay connected around the globe. Such experience made me aware of the possibilities for work in the digital age.
Connectivity today allows people from around the world to travel and work anywhere they choose. Osera believes that experiencing new cultures increases a person's knowledge both about work and life in general, which in turn improves productivity and quality of life.
A motto that has won the hearts of people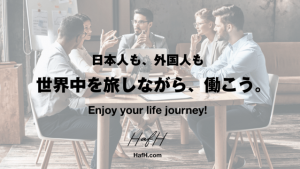 People from Japan and around the world,
join the HafH network to live and work around the globe!

A turning point arrived two years ago when he went out for dinner with his pal Kenji Sunada who would later become the company's co-CEO.
Ryo Osera: Being proficient in finance, Sunada was involved in real estate as individual investor at the time. Well-informed about real estate situation in Japan, he was pondering how to make it easier for people such as foreigners, single mothers and LGBT people who usually struggle to rent a place. With a vision to build a society open to diversity and accepting people as they are, he was determined: "Let's transform the real estate in Nagasaki as we intended ten years ago…" This way, he convinced me to pursue the goal.
From then on, Osera applied his expertise to building the foundation of the HafH project.
Although the original idea was to broaden housing options for foreign residents, Osera created a business motto "HafH: live and work around the globe" to receive recognition from the Japanese public.
Ryo Osera: Bearing in mind that short-term rental platform Airbnb has a motto "enjoy life and travel the world", we have adopted a motto which resonates with many Japanese people.
Combining a meaningful motto with raising funds on crowdfunding platform Makuake has led to the project's rising popularity in Japan.
Ryo Osera: At this stage, we are in talks with multiple investors, and have received inquiries from ministries and local municipalities of Nagasaki and other regions. We are looking at the possibilities of cooperation to form Team Japan and take on the challenges of providing flexible space around the globe.
Providing solutions to live up to its name
Having achieved remarkable growth, HafH's current goal is to live up to its name allowing the service subscribers feel at home while working in different parts of the world.
Ryo Osera: Many people these days adopt the HafH lifestyle leaving their hometown for various reasons. In the times of greater uncertainty, sharing is preferred to ownership. Co-living helps to achieve a sustainable economy where furniture is not discarded before moving to a new place. I believe people around the world will be adopting new values, shared living becoming commonplace.
Not only foreign students and workers, freelance writers and engineers could benefit from "space as a service" model, but also employees of big companies could use the service for "workation" (work+vacation) or remote work. Connectivity today allows businesses to conduct remote meetings with video conferencing tools such as Zoom and Skype.
Ryo Osera: For example, a person may decide to spend one week in the Kyushu area. With flexible space service, it becomes possible to work during the day in Nagasaki, and then to spend the evening in Fukuoka enjoying sightseeing and food. In my own experience, availability of such options enhances people's lives, also adding a sense of fun and adventure.
A self-employed person may prefer to rent space in HafH instead of buying own place; or company employees would have an option to occasionally change the work environment, heading to a shared office by the seaside to work remotely for a few days in the month, aiming for higher personal productivity.
Ryo Osera: We at HafH attach great value to the concept of "embracing diversity and accepting people as they are", and hope to provide flexible-space solutions for people from around the globe.
Original Text: https://ampmedia.jp/2019/01/10/interview-hafh/