Virtual YouTubers (VTubers) became a widely discussed phenomenon in 2018. These virtual celebrities publish videos on video streaming sites such as YouTube presenting themselves as avatars, 3D or 2D graphical representations.
Many new virtual YouTubers emerged since VTuber Kizuna AI became known both in Japan and worldwide, the total number of virtual YouTubers reaching over 6,000 people in December 2018. An animation film "Virtual-san looking" released in 2019 features over 30 VTubers, trending on Twitter and gaining popularity.
Activ8 Inc is a company which introduced this new creative concept in Japan. In May 2018, it launched "upd8 (update)", a project with a motto "create more choices for the world we live in", aimed at providing a multifaceted support for virtual celebrities. The aforementioned world's most famous virtual celebrity Kizuna AI also takes part in this widely discussed project.
Mr Takeshi Osaka, the head of company Activ8, has been at the forefront of this new virtual reality phenomenon. In this article, we trace the origins of "virtual celebrity" to gain insight into how a new culture is being shaped by this VTuber movement.
Takeshi Osaka, head of Activ8 Inc.

After graduating from college, worked at a company specializing in web media development and content creation, where he was involved in business operations and corporate planning. In 2015, he joined San Francisco-based T-Rex Lab Co. where he held an executive role at its Japanese arm. While nurturing an idea to build a societal foundation for life in the virtual world, he starts up Activ8 Inc in September 2016, taking a role as the company's CEO. Adopting a motto "create more choices for the world we live in," develops and operates "upd8", a project which offers services such as producing and supporting virtual celebrities. Born in Japan in 1986, he cites "Ghost in the Shell" and "Legend of the Galactic Heroes" among his favorite animation films.
What does the project "upd8" aim to achieve?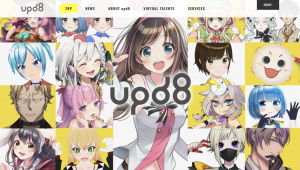 img:upd8 web site
The project "upd8" offers services such as management and producing for virtual celebrities. The management services involve creating a broad range of business opportunities for virtual celebrities. By connecting businesses, which seek to promote their products and services or need to make use of available intellectual property, with virtual celebrities, the project aims to enhance the value of virtual celebrities' work and ensure their presence is widely accepted within society. The producing service involves perfecting virtual celebrities' work so as to conform to professional standards. In this way, the project is intended to produce new celebrities; engage in the creation, delivery and operation of contents for virtual celebrities' specific use; and support virtual celebrities on their path to becoming stars.
A new movement is born from insights into modern trends
Known as a representative celebrity in the project "upd8", 「Kizuna AI」 published her first video on YouTube in December 2016, which became an instant sensation. Currently, she is active not only as a VTuber but as a virtual celebrity in various settings of the entertainment scene.

Kizuna AI's Official Channel on YouTube
Being a company which discovered her, Activ8 coined a new term "virtual YouTuber" and set up a new movement. As we ask Mr Osaka about what motivated him to create a virtual celebrity phenomenon, he explains it has to do with his views on the present challenges in the games and animation industries.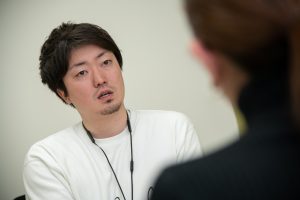 Osaka: Before starting up Active8, I worked in the games and animation industry. During that time I took notice of the power of 2D content, its competitive edge and possibilities in the Japanese market. When thinking about future changes to a traditional business model of this industry, I saw the possibilities of character-based content.
In recent years, we frequently observe how an artistic performance of individual characters, such as actors and celebrities, carries greater weight than the creative work which they are part of. While contemplating such trend in the artistic industry and similar possibilities for characters appearing in 2D creative works, Mr Osaka encountered YouTubers.
Osaka: They talk to the audience by streaming video content on the internet platform which is a modern form of artistic communication. While pondering how to bring the character-based content up to date, with the right timing I met Kizuna AI.
This is how Mr Osaka's insight into modern trends in the artistic industry has brought a new movement.
Novelty and authenticity are key driving factors
Two factors played a decisive role in Activ8's creation of the virtual celebrity phenomenon. One factor is novelty. Other virtual YouTubers did not exist when Kizuna AI appeared in the media, which presumably contributed to her rising popularity.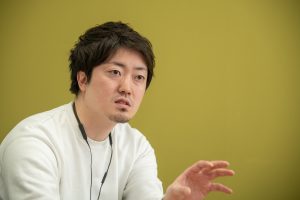 Osaka: Our strategy is to seek a blue ocean by staying half a step ahead of our customers' needs. Outstanding results would not be achieved by simply optimizing already existing products and services. At the same time, it would be difficult to build a customer base by targeting completely new, as-yet-unexplored niches. Therefore, we focus on developing a product which people do not have yet but desire to possess.
A new movement arises when people see creations not even imagined a while ago. Instead of catering to already existing needs, Activ8 works on developing novel ideas so as to open up a new world of entertainment to their customers.
Another factor is authenticity. Customers need to feel the realness of a novel product.
Osaka: When Kizuna AI made a debut, we were mindful of video posting frequency. As a rule, YouTubers post their videos almost on a daily basis. In this way, they build a viewer base, which then grows into business and generates revenue. Similarly, Kizuna AI posted videos five times a week so that viewers could perceive the authenticity of her work. So you see, virtual celebrities have to make an effort just like other YouTubers.

YuNi – virtual singer -Official Channel on Youtube
A virtual singer "YuNi", who made a debut in 2018, embodies both novelty and authenticity. While virtual celebrities have been known for talking in their video posts, YuNi only focuses on singing. With her passion for singing and a desire to become a "virtual celebrity singer", she has won the hearts of many fans. Last autumn, she placed second after Kizuna AI in the monthly virtual celebrity ranking for number of views.
Osaka: As part of producing, we suggest to artists to set individual goals for themselves and make it public. Such approach helps to communicate an artist's message to users. As it takes time to obtain results in the virtual celebrity business, having a clear purpose also encourages both an artist and us, the producers, to challenge ourselves and continue the work we believe in.
We assume Activ8's strength lies in having a clearly defined goal which in turn allows them to fearlessly pursue a blue ocean.
The role of diversity in shaping a new culture
As the number of virtual celebrities keeps growing, so does the demand for support services. While Activ8 is involved in the comprehensive work of producing a celebrity, as part of the upd8 project, they also provide various support services to celebrities who operate independently.
The celebrities in the upd8 are known for their unique qualities and include both female and male artists, and even animals and others with distinctive characteristics.
Osaka: In our work, we bear in mind the importance of celebrity diversity. Although moe-styled virtual celebrities are popular today, this trend may change as time passes. We view diversity as an important factor in our work towards shaping new movements and cultures.
This way, Activ8 provides guidance to virtual celebrities so that they learn techniques to showcase their diverse talents and develop skills to maintain their appeal.
Osaka: We assist virtual celebrities with acquiring techniques and know-how skills. Techniques refer to a concept design, which best suits a specific celebrity, and an ability to showcase talent. Know-how skills include search engine optimization, video editing, show production, optimal video posting period, etc. As we work with celebrities who perform in the virtual world, we also have to provide technical and marketing solutions. Our goal is to offer a comprehensive service which covers virtual celebrities' all needs.
In an effort to create high-quality shows, among other things, Activ8 offers access to its photo studio, located in the company's premises, and notifies about media appearance opportunities. To ensure celebrities' stable long-term business, it also provides expert advice on how to sign business and licensing agreements.
While some celebrities desire to work professionally from the beginning, others perform for self-expression and prefer to remain amateurs. The upd8 project provides support for both categories of celebrities, listening to their views and believing in their success.
Three factors for building a competitive edge
To our question on how Activ8 would adjust its strategy as the market for virtual celebrities expands and competition intensifies, Mr Osaka brings up three factors to differentiate its business model. One such factor is music.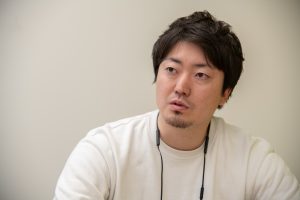 Osaka: Music itself can provide a competitive edge as it is a powerful medium to appeal to people's hearts.
While talking at events lasting 1-2 hours is not an easy task, including music helps to engage the audience. Music therefore serves as an important differentiating factor.
A second factor is collaboration.
Recently, we often hear about collaboration work of well-known YouTubers, and virtual celebrities could expand horizons of their artistic expression by following suit.
Osaka: Although joining efforts in the virtual world has its challenges, collaboration between several virtual celebrities opens up new opportunities. Together, celebrities can create a dialogue and work on projects which would not be possible if they acted alone. It also makes creating a context easier.
A third factor is the right platform.
In addition to YouTube, there are other video-sharing platforms such as TikTok and SHOWROOM. SHOWROOM's live streaming service involves a gifting system and allows celebrities and viewers to communicate in a new way.
Osaka: We intend to depart from a conventional practice, and build strength by creating original content which showcases a celebrity's talent, finding the right platform to share the content, and also, utilizing digital technology such as VR and AR for artistic expression in the virtual world.
Towards a new era of virtual celebrities
As of today, virtual celebrities are mostly contributing in the field of entertainment. Pointing out a broad range of opportunities for virtual celebrities, Mr Osaka expects them to be active in all possible areas to meet society's needs in the future. Education is one such field. Recently, a YouTube version of Kenji Sakuragi, the lead character of Dragon Zakura manga series, was created and became a topic of interest. Considering this manga character has won respect and adoration from the readers, the readers may also prefer to include their beloved character in their learning endeavors.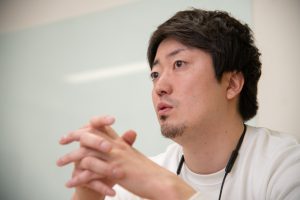 Osaka: Learning process can be made more productive by introducing an instructor who meets one's ideals. Such reasoning is not limited to education, and virtual dwellers can find their place where there is a demand for an ideal being. The time will come when virtual world dwellers become commonplace in our lives.
Activ8's vision for new times reflects the company's "create more choices for the world we live in" motto, and virtual celebrities as a technological cluster represent the future. Mr Osaka explains his stance on positive thinking with respect to virtual celebrities.
Osaka: In the face of rapid change in modern times, it is easy to feel anxious. In principle, we work hard in the present when we believe in a better tomorrow. Conversely, we will build a bright future if we make an effort today. We at Activ8 would like more people to feel hope by shaping a new culture and bringing a sense of excitement with the help of virtual celebrities.
This way, Mr Osaka works on generating ideas before heading into a blue ocean; working hard today with a clear idea about tomorrow is what makes him most happy he says.
Original Text: https://ampmedia.jp/2019/02/18/interview-activ8/