According to a report published by Japan National Tourism Organization (JNTO) in December last year, more than 30 million people from overseas visited Japan in 2018. Statistical data on inbound and outbound tourism show a sharp rise in demand for inbound travel to Japan over recent years.
Around 40 million people from overseas are expected to visit Japan during Tokyo Olympics in 2020 and tourism-related businesses are forecast to grow towards the event.
Given the favorable climate, KAYAK, a travel and leisure search company, is one of web-based services demonstrating remarkable growth over recent years.
Launched in the US in 2004, its meta-search engine compares the offers of other travel sites to supply most suitable travel option to users of the service.
Here we talk to Masahiro Yamashita, chief manager of the Asia-Pacific division, about KAYAK's current expansion into Japanese market and the company's strategy for growth.
Masahiro Yamashita

Chief Manager at KAYAK Asia-Pacific division
Before joining KAYAK in April 2017, he took up management positions at Legoland Discovery Center Osaka and Hotels.com Japan. He holds a master's degree in science from Durham University in the UK.
More than just a price provider: an app for comfortable travel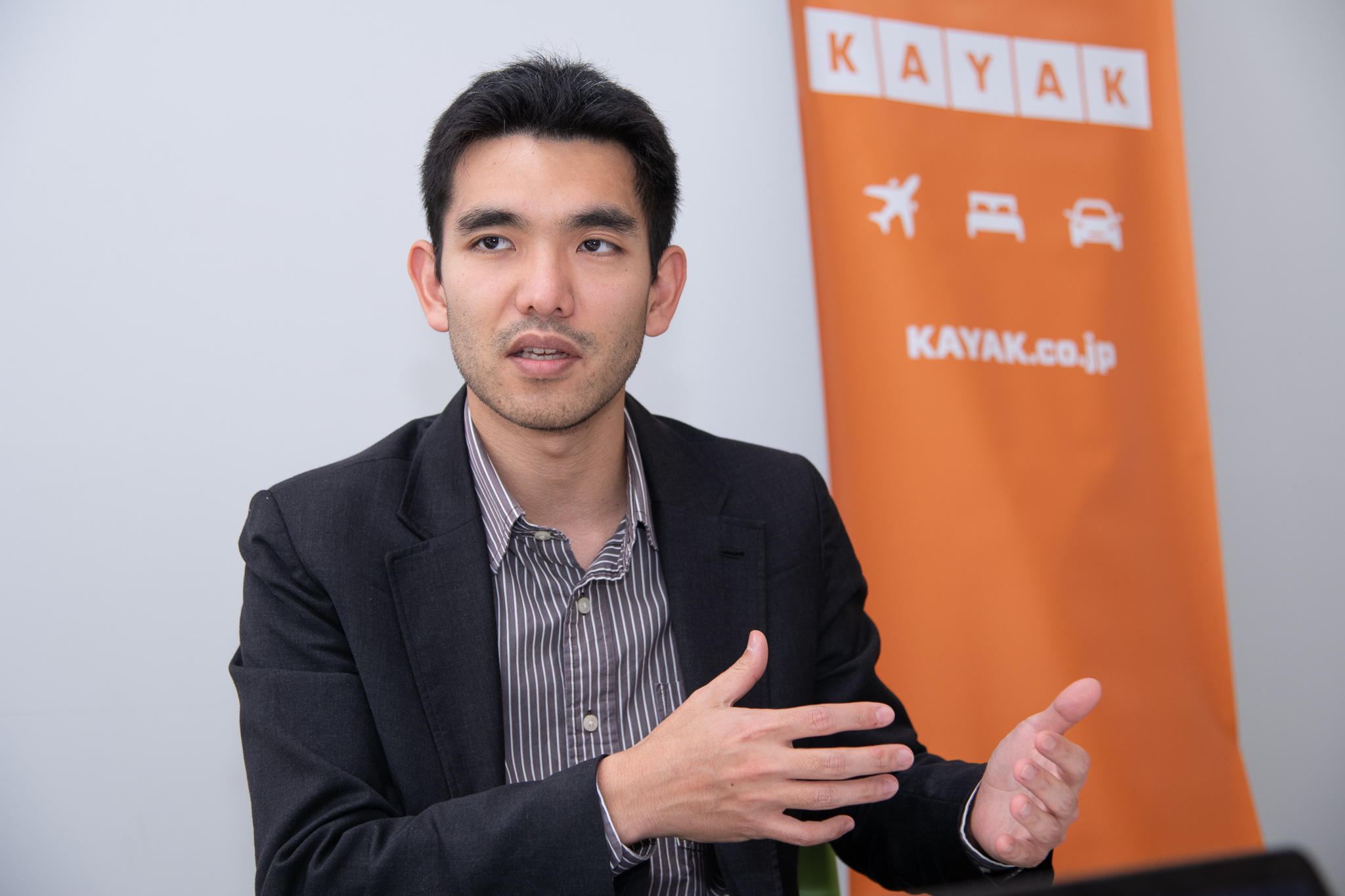 Could you tell us about services offered at KAYAK?
Yamashita: KAYAK originally started in 2004 as a travel price comparison service in the US.
In the beginning, we offered flight price information but currently our service covers price information for air travel, hotels, car rentals and travel packages.
Majority of our employees are engineers who have a passion for travel and therefore can provide insights into new features of the app which would benefit a traveler.
One of such features is Trips, a travel-planning tool. When KAYAK users book a flight or hotel, our AI system reads the booking confirmation emails, and generates a travel plan shown in the app account of a user. KAYAK employees use this tool for travel and provide feedback on how to make improvements to our service.
In this sense, KAYAK's services are not limited to supplying travel price information but can be viewed as a traveler's tool which offers support before and after the trip.
The app serves as a traveler's supporter, doesn't it?  
Yamashita: Yes, it does. For example, the app uses AR technology to measure luggage size and sends flight delay notifications. The app is intended to support travelers starting from trip-planning stage, then from home to a travel destination, and also during their return journey.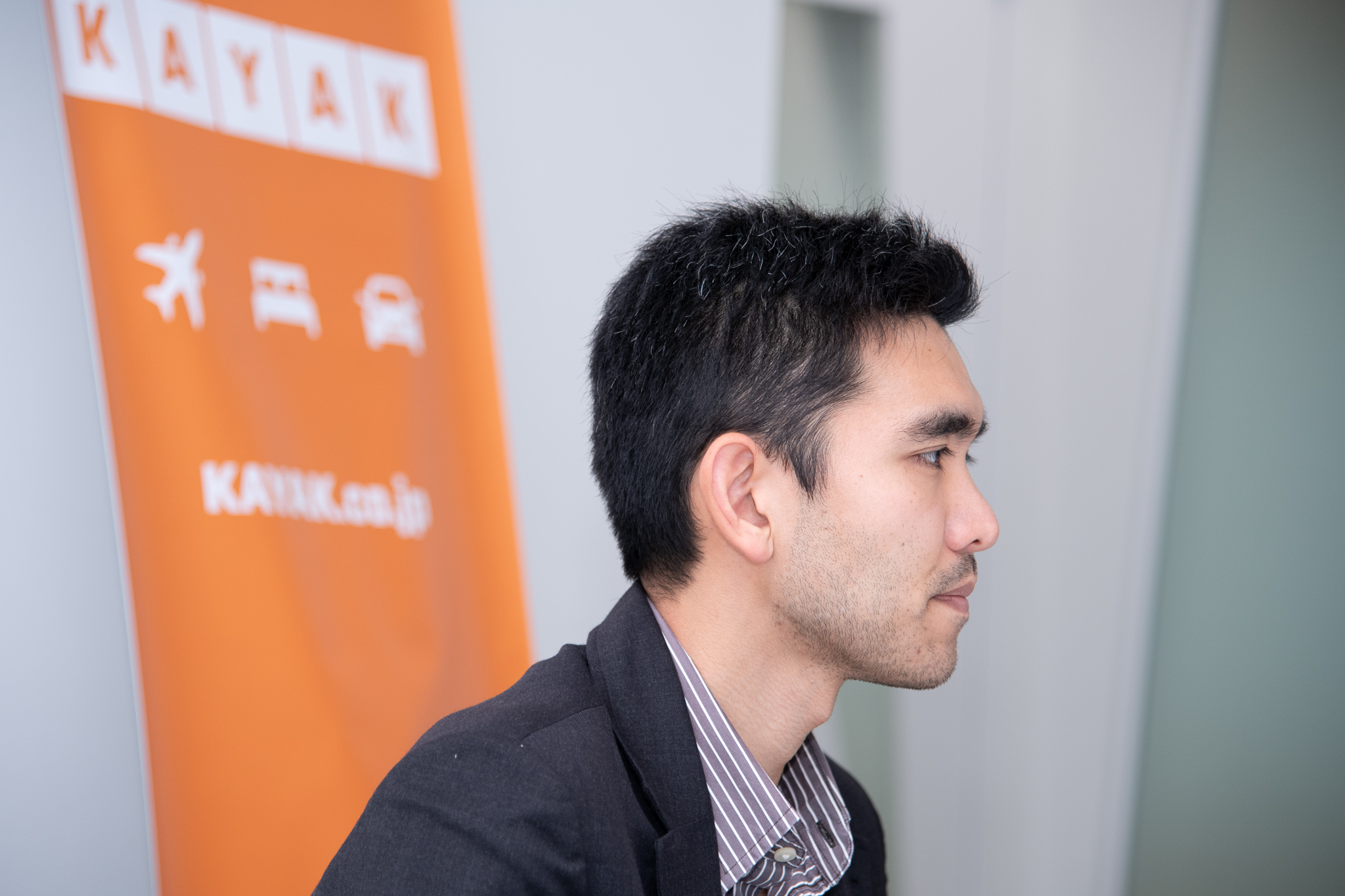 How do you see your role as head of the Asia-Pacific division?
Yamashita: KAYAK service launched in Japan in 2017. As a new travel site in the market, at this stage, we are putting our efforts into marketing activities.
With a 14-year experience of worldwide business operations, we rely on accumulated analytical data to expand our service in the Japanese market. Fortunately, KAYAK service has maintained a high repeat rate, and we believe once customers get to know about the service, they will continue using it for its convenience.
Lately we notice television commercials for travel companies. Considering the presence of other service providers in the market, could you tell us about distinctive features of the KAYAK service?
Yamashita: Although we consider the "price comparison" feature as our strength, there are also other aspects of our service which provide value to our customers.
While other travel companies focus on price comparison service, our strength and goal is to offer users a comprehensive travel support by providing a package of information including air fare, hotel prices and car rental.
Also, compared to local travel companies, our business operations expand across 60 countries; we consider a big user base and our business partnerships as one of our strengths.
A service to match users' travel habits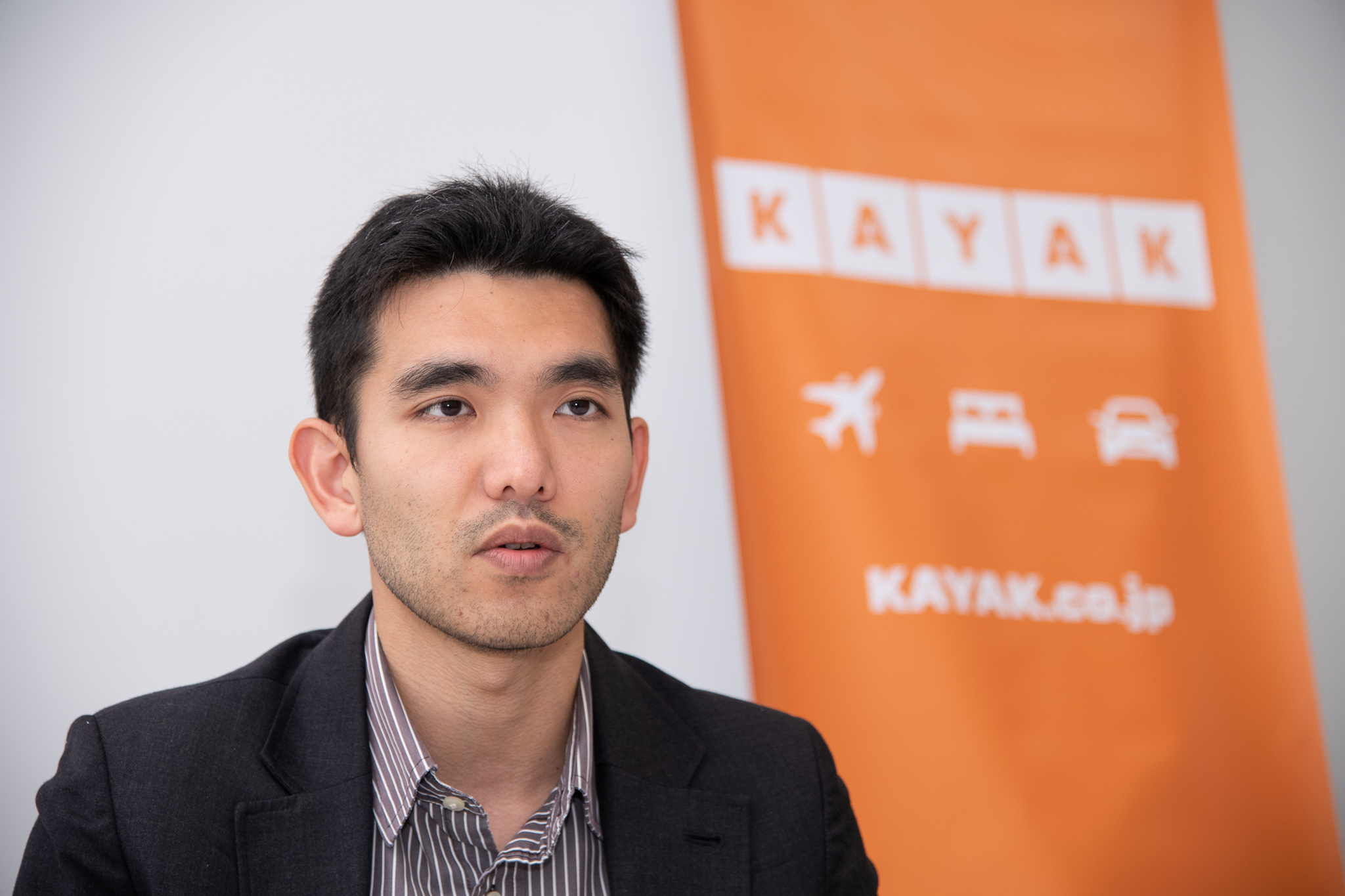 KAYAK is a travel service widely used across the world. What are the reasons for service expansion which only started in Japan in 2017?
Yamashita: We made a decision to expand into Japan because the necessary conditions were created.
It took us three years to prepare to enter the market as big as Japan's. The arrangements include collaboration with internet service providers, airline companies and travel agencies.
Our service requires users' willingness to make travel arrangements online. Meanwhile, the proliferation of smartphones in Japan took place relatively later than in other countries.
Travelers 20-30 years ago booked their package tours through travel agencies; for example, when holidaying in France, they visited art museums included in the planned itinerary.
However, travelers' habits today are changing: people are using smartphones to make travel arrangements online; choose to travel alone instead of joining tours; book airline tickets and hotel rooms separately.
With tailwinds created by the change in travel habits, we chose the timing to expand in Japan in 2017.
With rising demand for inbound travel in recent years, there are reports it has become difficult to book a hotel. Given the current climate, what solutions could travel companies offer to customers?
Yamashita: With regard to hotels, when there are few vacant rooms available for booking, hotel operators can raise prices in response to higher demand.
Meanwhile, customers wishing to stay in a nice hotel at a reasonable price can compare hotel prices on KAYAK search site.
If the price difference only amounts to about 100 yen, then one can choose to stay in a familiar place. However, the total expense would swell for family reservations.
One may find that a hotel usually available at affordable rates has unexpectedly become very expensive. On the other hand, a similar hotel may be offering rooms at a price 1000 yen or 2000 yen, or even multiples of ten thousand yen cheaper.
As demand for travel increases, customers would want to compare prices offered by similar hotels. This can be done on our travel site within five minutes. We hope people will find our service useful in this respect.
Trips: a tool for optimal travel plan
Could you tell us about KAYAK's marketing strategy to attract more customers?
Yamashita: As per our marketing policy, we are allocating funds to efficiently expand our business. However, we do not intend to spend hundreds of millions of yen on promotional activities.
We are confident about the quality of our platform, and firstly, would like users to get acquainted with its distinctive features.
As of now, the number of KAYAK service users has been steadily growing.
What are the reasons behind steady increase in the number of service users?
Yamashita: Users seem to choose KAYAK service not just to find the cheapest travel options but to set up a plan for comfortable travel.
There are also users who wish to find affordable prices. However, if going to Europe requires a 12-hour wait at the airport, most users prioritize comfort over travel cost.
We at KAYAK aim to act as a travel supporter so that travelers can use our platform to build an optimal plan for their journey.
We believe more people are turning to our travel site for this reason.
What are other functions available on KAYAK's Trips platform to support travelers?
Yamashita: One of the functions popular among KAYAK staff is Trips' ability to record a person's travel data: flying miles, length of stay, distance traveled around the earth, etc. Such function allows users to reflect on their travel history discovering interesting facts such as more than hundred days in a year spent at travel destinations.
There is also OpenTable, a restaurant booking site run by Booking Holdings, Kayak's parent company. Users of the site can collect points which in turn can be applied to hotel bookings to receive a discount.
Users must be very pleased having access to such service?
Yamashita: This is true because availability of such service helps travelers to feel more at ease when going to a restaurant for the first time in a foreign country.
We intend to create more services to make travel abroad more comfortable.
On creating value and definition of success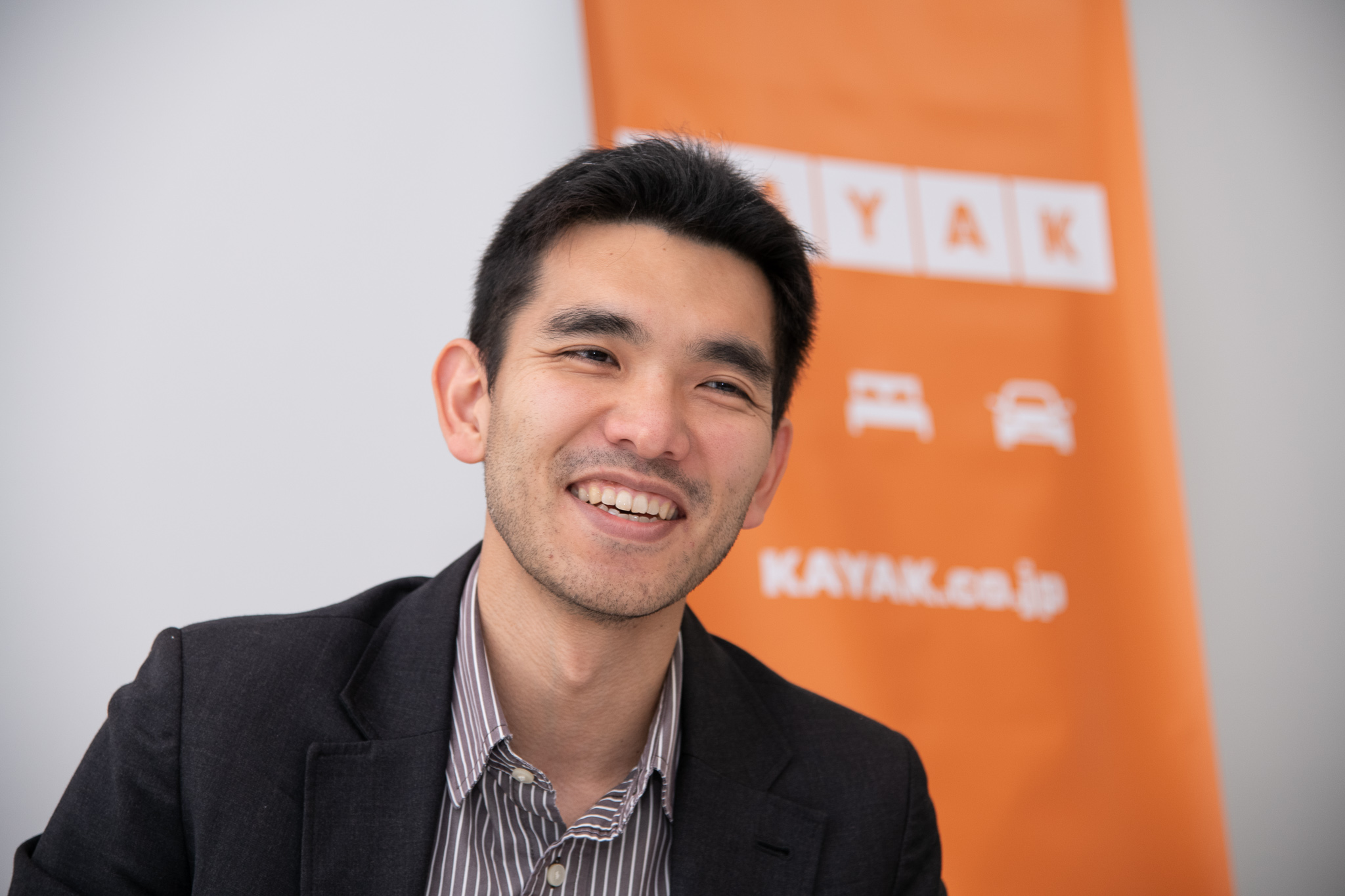 KAYAK is a new service available in the Japanese market. Which factors do you find as important for a new service to be widely adopted and grow?
Yamashita: I think it is very important to have passion, love and faith towards a product or service one intends to offer.
Whether it is an established enterprise or a start-up with a brilliant product concept and abundant funds, a challenging time would certainly arrive. This is when one's faith in the future of the product will be tested.
It is rare to see a business success achieved with profit-seeking motives alone.
I believe only with dedication to creating value for customers it becomes possible to achieve financial success.
How do you see the future of KAYAK service and what are the goals for 2019?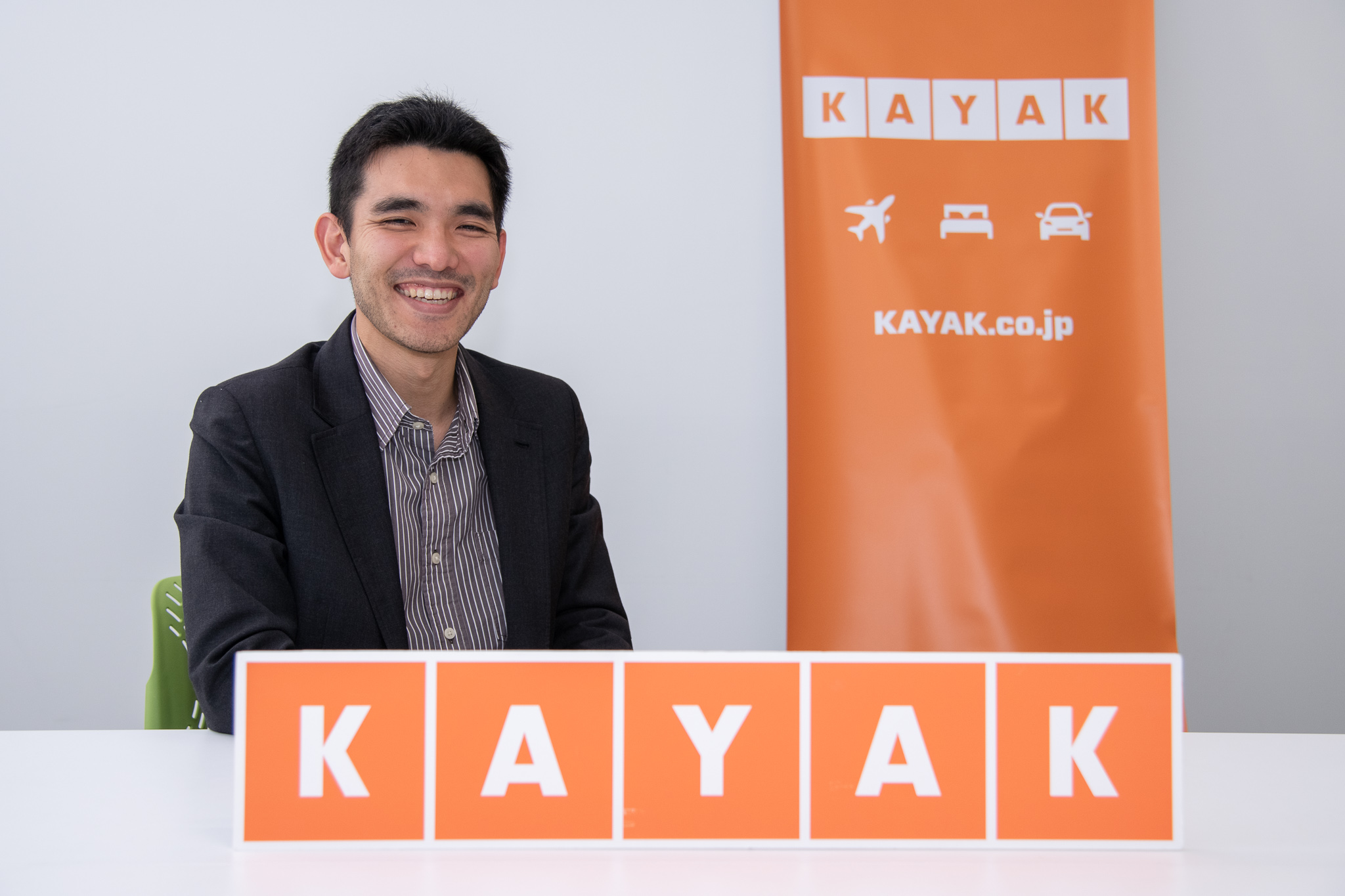 Yamashita: At present, we would like more people to get to know about KAYAK service and try using our travel-planning tool.
As for our long-term goal, we would like to create a platform so that people say "Let's search KAYAK" when they think about travel.
To achieve our goals, we intend to continuously improve our service based on feedback from our customers.
Thank you for talking to us today.
Original Text: https://ampmedia.jp/2019/03/11/interview-kayak/