※This is a machine-translated text of the original article.
Toppan Printing Co Ltd has developed the trash box "PoyPort(TM)" which displays the image on the attached signage in response to the introduction of the trash.
By using this trash box, various information such as coupon issuance, event information, and environmental initiatives can be displayed in a video.
Specifically, it is possible to perform interactive effects such as displaying images of lotteries, roulettes, prizes, and the like in association with the user's discarding of the garbage.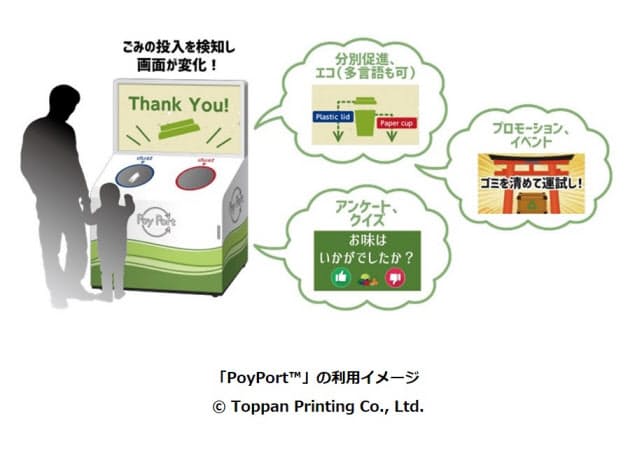 In addition, by installing a sensor at multiple disposal ports, log data on the date and time of disposal and at which disposal port the disposal was performed can be acquired, thereby making it possible to effectively utilize the trash bin.
In the attached signage, information can be transmitted in multiple languages, and content can be shown to visitors to Japan.
In preparation for the opening of the Tokyo Olympic and Paralympic Games, the company is planning to launch sales of these products for event venues and tourist destinations on February 5, 2020.
The company intends to sell PoyPort™ to venues, tourist sites, public facilities, and other facilities in the future, with sales of approximately JPY1.0bn, including related orders, by fiscal 2025.
Original Text: https://ampmedia.jp/2020/02/05/toppan-8/