Data-as-a-service (DaaS) company DATAFLUCT announced the launch of a new service "DATAFLUCT agri." starting from February 2020.
Certified as "JAXA venture", i.e. a venture supported by Japan Aerospace Exploration Agency's intellectual property and expertise, the start-up raised 46 million yen ($420,000) in funding from angel investors in October 2019.
How data science helps ensure the timely supply of fresh produce
"DATAFLUCT agri." service uses alternative data to help businesses control the supply of agricultural produce.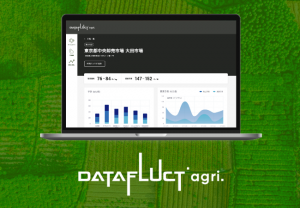 In contrast with data provided as part of regular statistics reports, the alternative data refers to real-time satellite images which are analyzed to monitor the progress of farming, and to forecast crops volume and timing of harvesting.
The service uses past prices, weather data and AI to forecast future market prices for specific agricultural products.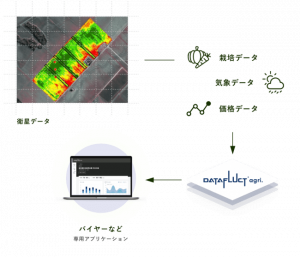 This way, users of "DATAFLUCT agri." service can control the supply and cost of fresh produce with precision offered by real-time data. For example, if AI-powered data indicates a surge in future price of cabbages, then buyers can switch to ordering another type of produce or choose a different supplier.
Agritech start-ups offer climate-smart solutions
With the rising temperatures and fluctuations in rainfall cycle caused by global climate change, FAO (※1) advocates the adoption of climate-smart crop production practices and technologies to reduce risk from droughts and floods.
Vertical farming start-ups, Berlin-based Infarm and New Jersey-based AeroFarms are teaming up with retailers to grow vegetables under artificial light, without pesticides and near consumers.
While indoor farming uses hydroponic technology to grow vegetables, it is said to require 99 percent less water compared with traditional agriculture. Its modular farming units can be installed inside retail stores to provide fresh local produce to shoppers without the need for transportation.
In the US, "Farmers Business Network", dubbed as a "Google for farmers", provides a social media platform where members can obtain data on seeds, fertilizers and pesticides, helping farmers make optimal buying and planting decisions.
(※1) FAO is the Food and Agriculture Organization of the United Nations.