What are major trends in Japan's animation industry?
Technological innovation is changing how we access content today, as instead of purchasing CDs and DVDs, watching traditional TV broadcasts or going to cinema, consumers choose to watch video streaming offered by Netflix and Amazon Prime among others.
Streaming platform Netflix, with its global audience of over 150 million subscribers from over 190 countries, is working with Japanese media companies to co-produce digital content including animation films.
As for Japan's content industry, while the revenue from digital content exports quadrupled during five-year period (2012-2017), the share of animation films in the overseas sales increased from 56.6 percent in 2012 to 82.9 percent in 2017.
Digital content marketed in Asia comprised 56.4 percent in 2017, followed by the US (27.0 percent) and Europe (8.2 percent).
Recognizing content creation as a necessary conduit for cultural understanding and economic vitality, Broadcast Program Export Association of Japan (BEAJ) cooperates with the government to provide support to content providers on the international scene.
According to the Association of Japanese Animations (AJA), market size for Japan-made animation films exceeded over two trillion yen ($18.5 billion) in 2017, with overseas sales comprising almost half of the amount (994.8 billion yen / $9.2 billion), followed by animation merchandise which generated revenue of 523.2 billion yen ($4.8 billion).
The trends in domestic and overseas sales reversed around 2014 when domestic revenue embarked on a downward slope and overseas sales increased threefold within four years.
Building blockchain ecosystem: towards egalitarian community of animation fans and creators
Amid demographic and digital transformation, BlockPunk is a Singapore-based start-up aiming to address the challenges of Japan's animation industry. CEO and co-founder Julian Lai-Hung, who formerly worked for Warner Bros and was in charge of Netflix production of Japanese animation, shares his view on the current state of the industry.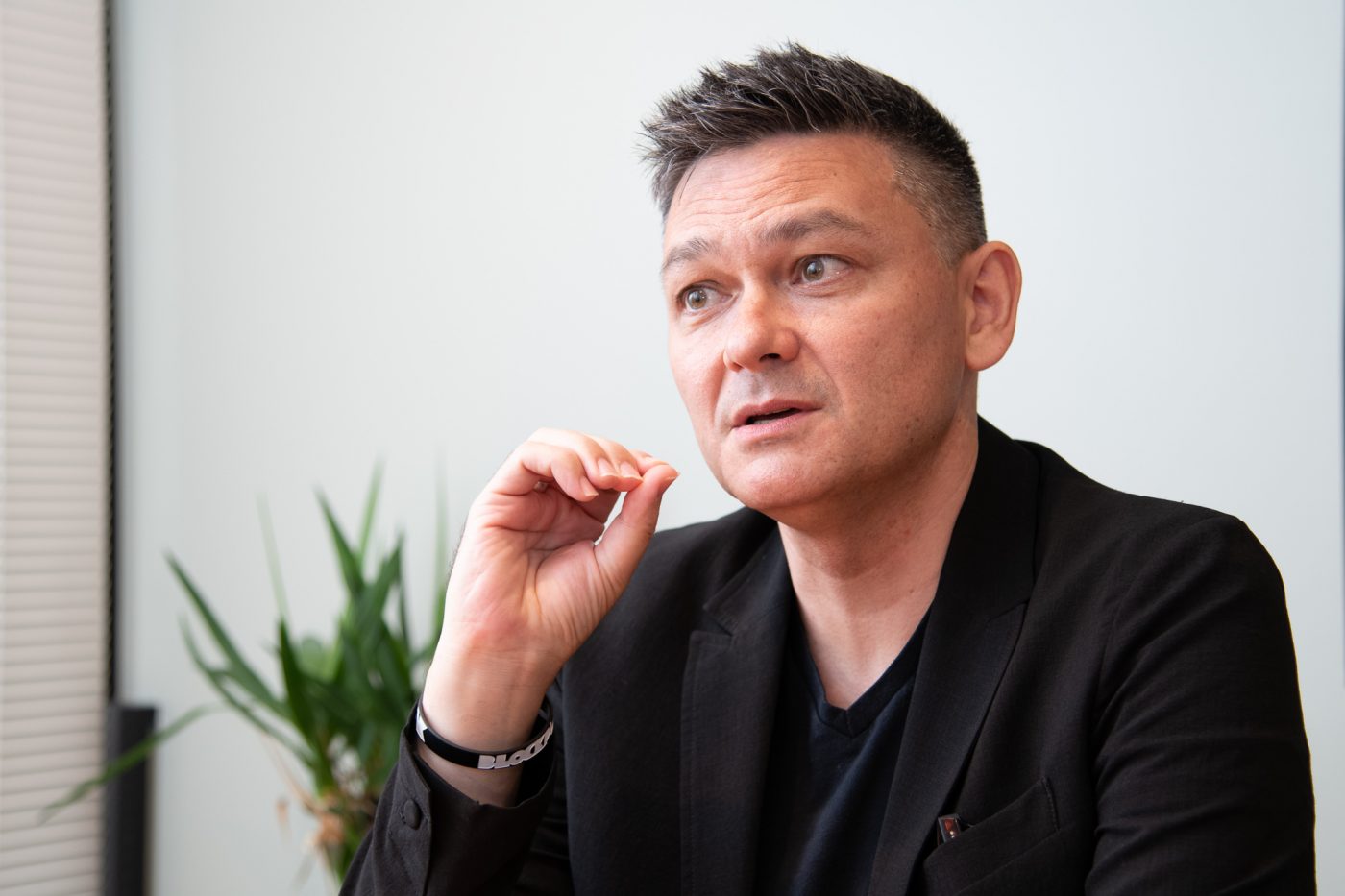 While streaming company Netflix is contributing to higher quality animation by allocating funds to production, there are also drawbacks such as "fixed subscription fee", "lack of viewership data", "time gap between content streaming and sales of merchandise."
Fixed subscription fee implies that greater number of viewings is not reflected in the creators' remuneration. While streaming companies possess a lot of useful viewership data, it is not shared with creators. As for merchandise, the availability of unlicensed goods and resale of original ones at exorbitant prices is pervasive; the revenue generated is excluded from the official statistics and creators' remuneration.
Founded in 2018 to tackle these issues, BlockPunk uses blockchain technology to provide digital content and goods to animation fans. Its product range includes "blockchain print-on-demand goods" and "blockchain token-based animations".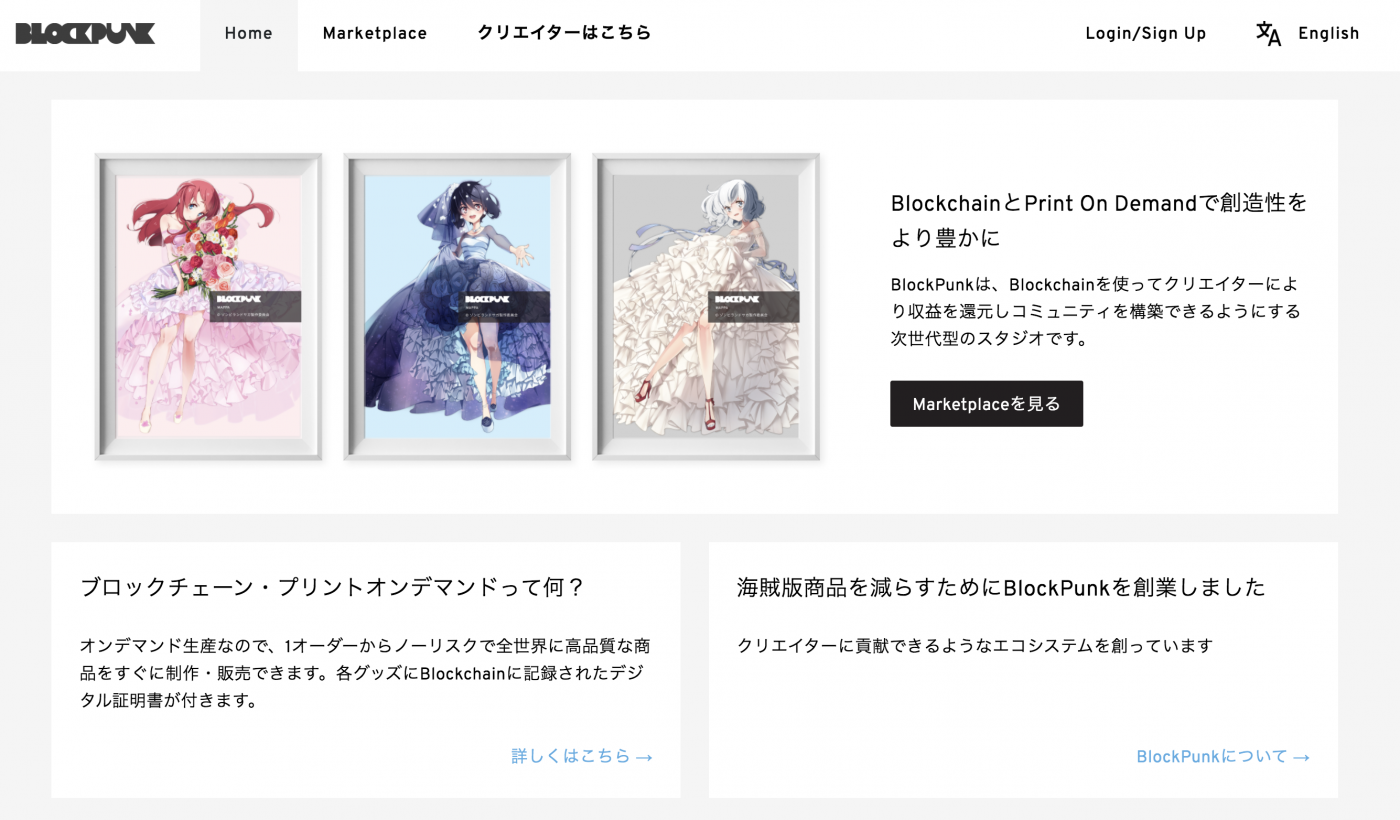 BlockPunk web site
Available to animation fans worldwide, "print-on-demand goods" are original copies of animation artwork reproduced using high-end printer by Dai-Nippon Printing, an investor in the start-up.
Each artwork carries a digital certificate linked to a blockchain database confirming product authenticity. By scanning NFC chip or QR code embedded in the artwork, buyers can read the contents of digital certificate which includes artwork title, creator's name, date of production, and buyer's name.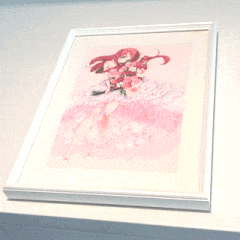 Digital certificate appears upon scanning the NFC chip
In case of artwork resale, the ownership history is recorded into the database and appears in the digital certificate.
Token-based animations contain digital certificate as well. Buyers can access the movie, audio commentary, and artwork as bonus. As for creators, they can control the selling process by setting the number of copies sold, after which resale is approved.
When animation product is resold, a certain percentage is allocated to creators, rewarding creators' continued efforts.
As for payment method, blockchain technology allows paying with virtual currency instead of credit card. The "smart contract" system ensures automated payment, instantly rewarding relevant parties when the product is purchased.
As Lai-Hung points out, even if BlockPunk discontinues its business, the tamper-proof nature of blockchain technology ensures security of stored data as long as the World Wide Web exists.
Considering the benefits of blockchain-based ecosystem such as creators' rights protection, efficient payment system, and providing a scarcity value to digital content, the company aims for an interactive platform where fans can share their views and creators can easily present their work to the public.