Japan's Yamaha Corp. and transport companies Keikyu Corp., Keisei Electric Railway Co., Tokyo Metropolitan Bureau of Transportation, Tokyu Corp., Odakyu Electric Railway Co., Keio Corp., Seibu Railway Co., Fuji Kyuko Co., All Nippon Airways Co., Japan Airlines, JR Bus Kanto, Hato Bus Co., Enoshima Electric Railway Co., Yokohama Transportation Bureau have announced about ongoing collaboration on creating a multilingual system called "SoundUD" which allows converting generated sounds such as "announcements for passengers at train stations" into visual format. The system is planned to be ready for use around July 2020 aiming to assist foreign visitors and hearing-impaired people.

What is SoundUD?
The technology for SoundUD (Sound Universal Design) system was proposed and developed by Yamaha Corp.
The SoundUD platform is designed to connect spaces, where sounds are generated, with ICT devices.
The system uses standard loudspeakers called "SoundUD triggers" which are linked to acoustic communication technology, Bluetooth®, GPS and other technology to visualize generated sounds.
By installing an app for "SoundUD" platform, users can obtain voice and sound based information relevant to a specific spot in visual format on their smartphone screens.
"SoundUD Promotion Consortium" formed in October 2017 comprises 300 entities which are working together towards the technology's wider adoption.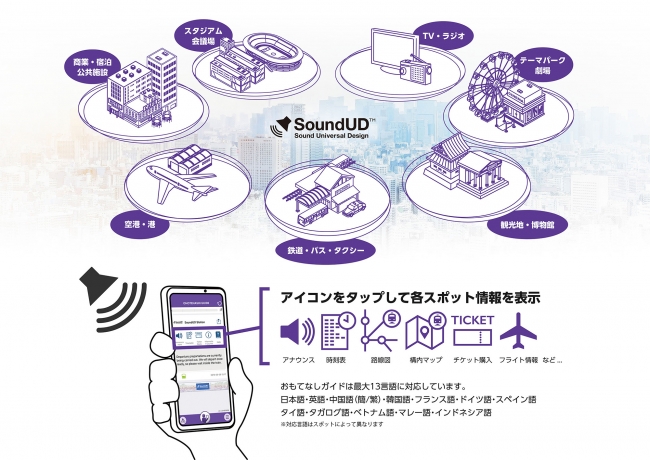 As the number of foreign visitors is expected to increase in 2020 in the Tokyo metropolitan area, companies are working to ensure the facilities are equipped with SoundUD technology so as to provide multilingual service.
By installing a "welcome guide app" for SoundUD on their smartphones, users can get multilingual service at airports, bus stops and train stations, and also during travel inside buses and trains where SoundUD technology is integrated.
The companies, taking part in SoundUD technology integration, are aiming to offer transportation services based on "universal design" which transcends language and hearing related barriers.